Autumn or fall is a time of crunching your heels against nature´s gold, amber, beige and chocolate, and your scarf soars against the breeze. It represents routine, things literally "falling" into place for nature and mankind-that means, school and work. Yes, vacation is over and the ultimate reading time exterminated? I do not accept that! Neither should you! In the midst of our minds, running in circles, up and down and in zig-zag, let´s save reading time for either those long commutes to work or for bed-time! Bed-time is the ultimate time to ease our minds before we can have a good night´s rest and those morning commutes allow us to ease our minds before the busy start to the day. Here are some top autumn read recommendations:
Saints and Misfits by S.K. Ali
Saints and Misfits´ cute cover of a teenage hijabi with its very book title, is what attracted my attention in the first place. The irony of it all! Not only is Saints and Misfits an award-winning YA fiction, but it touches upon the social pressures of a normal teenager drowning in the colliding drama of school life and home life, while trying to discover her place in it all, her identity! Not only is the main character, Janna from a multicultural, yet modern-day Muslim family, but past her hijab lies a girl with girl issues, including a crush. She talks about the saints in her life, those who seem too perfect to be true among God´s creation, one of whom, is to marry her older brother. Then, there are the "misfits" which Janna calls herself.  Last, but not least, there is the double-personality, one who shows himself to be some kind of angel outside, but is really a "monster" behind doors, claiming Janna as his unfortunate prey.
Shatter Me by Tahereh Mafi
Shatter Me Series is a series of three books (Shatter Me, Unravel Me, Ignite Me) aimed toward young adults, but is equally enjoyable by all ages who love a good dystopian story. It can be just as action-packed as it can be sultry. The main character is a powerful female named, Juliette. She is powerful in both mind,  body and soul, and her beauty could steal the heart of even the worse villain. In fact, her murderous touch is what kept her imprisoned for years before she was finally released for the sole purpose of becoming one of the world´s most dangerous weapons. Moreover, Juliette discovers that the world is not as it used to be, in fact…it is worse and eventually, needs to discover her own purpose in it rather than be told what her purpose is. We follow her through a sort of journal, within which she crosses off sentences or words that she regretted admitting in writing. However, in reading this, it is as if we get to know the real Juliette.
Reclaim Your Heart by Yasmin Mogahed
There is always a time when the sky can be as clear blue as crystal itself, yet we feel like the gray clouds boulder in, raining nothing but the disappointment of the world on our heads and shoulders. The weight, unbearable! And we, on the quest for a perfect life. But, that is just it! Life is not perfect! Otherwise, it would be paradise. Reclaim Your Heart is an uplifting, spiritual read that, through its seemingly poetic lines, of explaining duniya and all that is above, to us, that we drown ourselves into its beautiful words and find ourselves, wanting so badly to embrace them…to "reclaim" our hearts. Despite the pressures of society, the confusion between what we want and what we truly need, including more independence than dependence, we find solace in the fact that we can achieve peace, balance and self-reliance. That we can be independent and "free from life´s shackles." Capturing in its use of language including metaphors, yet so clear and simple in explanation, Reclaim Your Heart inspires and impacts all-year-round.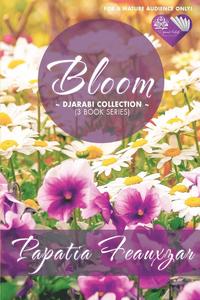 Bloom Book 3: Oblivion by Papatia Feauxzar
Bloom is a series of three books (Mistress of the Spices, The Hazardous Life of Nilüfer, Oblivion), Oblivion taking place in Texas around August. It is particularly hot and the protagonist, Aïda Mubarak, learns to make her peace with intimacy not being on the marital menu daily. "Like Autumn, there is beauty in letting go of things with the hopes of starting fresh," says the author, herself! Oblivion touches upon serious issues that the fictional characters face, in a cautious, yet humorous manner. Routine and relationships do not go hand-in-hand, especially when you are trying to make room for intimacy in your relationship, while working on a fully-loaded day schedule. Maybe Oblivion has a secret to it all for you?
No Sex in the City by Randa Abdel-Fattah
If one were to follow the what is considered "the norm," then he or she would believe in marriage, however, not everyone can find "the one" so easily. Therefore, disappointing his or her cultural society´s expectations. No Sex in the City is about a woman named, Esma, who starts a "No Sex in the City Club," in which her three friends are additional members. They, each, talk about their lives including Mr. Wrong and Mr. Right! It is a fun twist on an actual existing series! Girl talk during coffee-break can probably include your review on No Sex in the City.